A Dive into Percy's Newest Fragrances, 1806 & 1881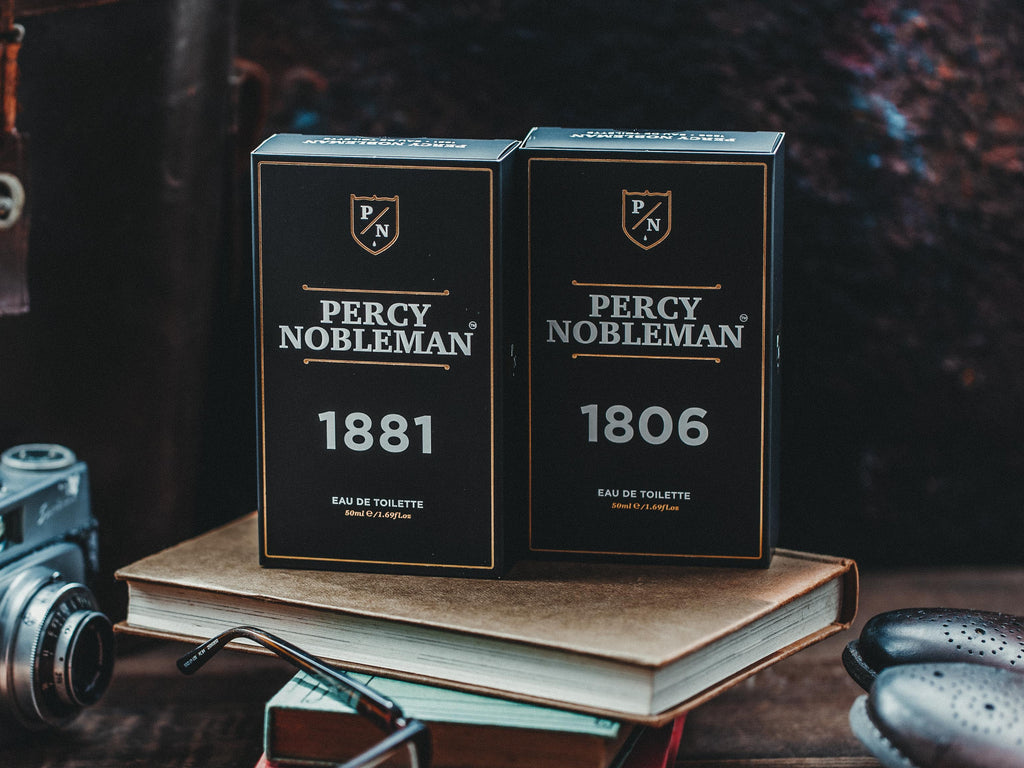 Greetings gents,
Since I embarked on this journey into the world of men's grooming, only one distinct scent has been the osmatic backdrop to my adventures… None other than my signature fragrance. So much so, the memories that I carry with it are almost tangible and I feel represent my very being.
As you may well know, I cannot attribute my success to myself alone, but each and every Nobleman in my family (both in name and spirit) who has passed their knowledge, ambition, and style onto the next generation. It is I admit a peculiar thought that the bearded quest my father, grandfather, and beyond and beyond underwent have culminated into the very products I sell today. And yet, the fragrance is uniquely my own.
I thought it was high time to honour these men, to explore their stories, but also allow for a blending of the Nobleman legacies; fragrances to be created out of the moment, whatever the season. I present to you my new fragrances, 1806 and 1881.
1806 
Fragrance notes:
Top: Bergamot, Lemon, Neroli
Middle: Orange Blossom
Base: Musk, Amber
1806 represents the year my Great-Great-Great-Great Grandfather, Charles Wilson, was born. A traveller, explorer and bon vivant, Charles had a career in commerce, latterly as a wool factor. Charles' essence comes to me in the breeze, in fresh flowering fields and vibrant discoveries. With a chorus of citrus, blending Italian Neroli, Bergamont and Lemon, stay light and energised, only grounded by undertones of Musk and Amber.
To stay true to the wonders and wares Charles must have encountered and brought home to his family, I wanted this bottle brimming with natural ingredients; Bergamot, Clove Bud, Lemon, Nutmeg and Petitgrain. Let this fragrance guide you in reverie of joy and curiosity, with the confidence to roam. It is his adventurous spirit I believe that is instilled in this family, and perhaps to blame for some of our more daring quests!
This scent truly does encourage you to dream under the boundless summer skies, as, no doubt, he once did.
1881
Fragrance notes:
Top: Saffron, Leather, Cardamom
Middle: Vetiver, Patchouli, Orris
Base: Amber, Moss
My namesake and Great Grandfather, Percy Furber, was a prominent entrepreneur and an inspiration to my more nostalgic, romantic inklings. My grandfather would speak of Percy and his office almost as if they were one elegant entity; Percy was a cheese factor, and his home was his office and his warehouse. I can imagine  the strong yet weathered oak desk, brimming bookshelves, and the open window to the large garden where he spent his free moments. I occasionally find myself envying his compatriots, invited to evenings of wine and cheese, locally sourced from the farms which surrounded his estate. 
My tribute to the first Percy is a scent with an aromatic leather character, balanced with wild floral notes which perfectly convey his strong yet delicate nature. Let this fragrance personify your happiest moments, and those filled with deep thought and genuine passion.
1881 is a hallmark on a leather-bound journal, a blend of ardent spices and floral undertones, with authentic Cedarwood, Patchouli and Pink Peppercorn. I hope it would have made Percy proud.
If you are looking for an exhaustive guide to application, well I do have you covered with an earlier piece, which you can journey to here.
But I cannot leave you without explaining one final importance regarding 1806 and 1881… These are not necessarily stand alone fragrances, but rather made to be blended to your desire. Armed with the heart and passion of my forbears, I encourage you to discover a new balance which instead embodies your own temperament to accompany you throughout life's many challenges and merriments.
Simply layer the fragrances for something entirely your own, or I have always been one to play around with timing, staggering sprays throughout the day. Or perhaps you are more inclined to blend through location, a crisp citrus aroma for those you extend your hand to, and a heartier floral scent for those who come into closer company. There exists such an array of options, you should not find yourself so consistent as you once might have been!
The Nobleman family brings together generations of experiences and assiduity, I believe it would be quite the waste not to appreciate the notes and nuances of each scent, both alone and in tandem! These are stories and quests to be had by all!
Your friend,
Percy