A Nobleman's Guide to Men's Skincare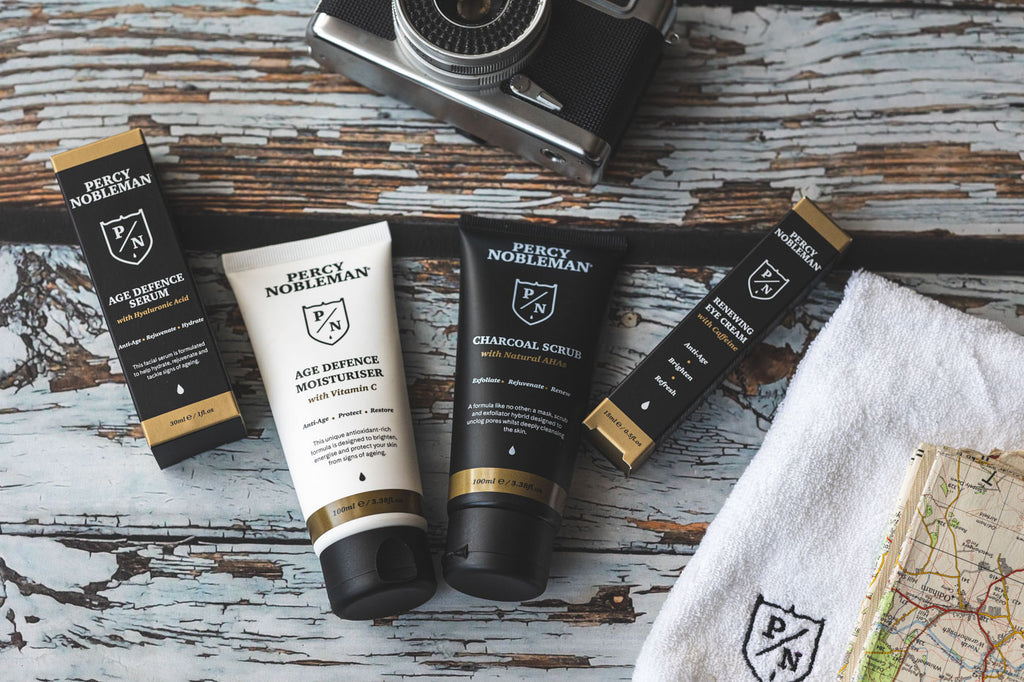 Dear Fellow Nobleman, 
Are you lacking some moisture in your noble quest through life? Or in need of some friendly advice from a fellow gent on how to achieve healthier-looking skin? Then you're in luck. With my new (and might I say sublime) skincare collection, your regime is complete in 4 easy steps; cleanse, hydrate, refresh and moisturise. Skincare doesn't need to be over complicated, keep it simple yet significant!
Designed for the modern gentleman, this results-driven regime will rejuvenate your skin, ready for wherever your next adventure takes you. Whether you're a young explorer looking to protect your skin from early signs of ageing and breakouts, or a well-travelled gentleman with maturing skin, my skincare collection has you covered.
I've put together a helpful guide to navigate all my fellow Noblemen through superior skincare applications. I've also got some expert tips to share along the way as we embark on this skincare adventure together.
Let's delve in…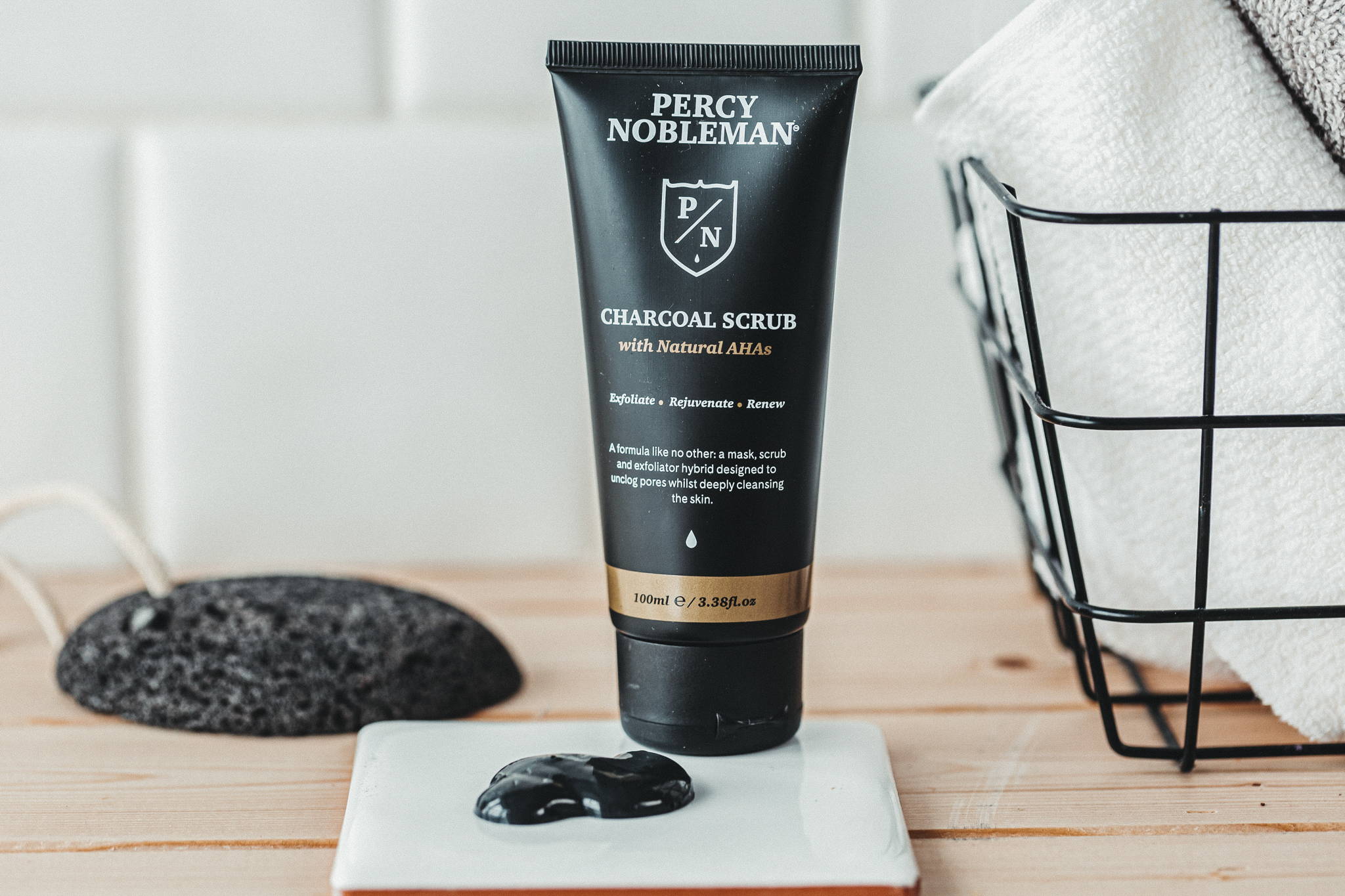 Step 1: Cleanse & Scrub
This 3-in-1 mask, scrub, and exfoliator hybrid is the perfect way to save time and kickstart your day. If clogged pores are holding you back, the Charcoal Scrub is your skincare saviour, providing an all-round deep cleansing experience. A true messiah, this product helps to gently lift away impurities and toxins to help achieve a clearer complexion.
Apply the scrub evenly to your skin, with extra attention to your nose, chin, and forehead (or any other problem areas). Work the scrub into the skin with your fingertips using gentle circular motions. Then follow with warm water to rinse off. Kill two birds with one stone and apply your scrub before getting in the shower for quick and effortless removal.
Top-notch Percy tip: Start by slowly introducing the scrub into your regime a couple of times a week, depending on skin sensitivity, before building it up to daily use.
As this product contains AHAs that can increase your skin's risk of sunburn, use sunscreen each morning to maintain the complexion of a hearty Nobleman.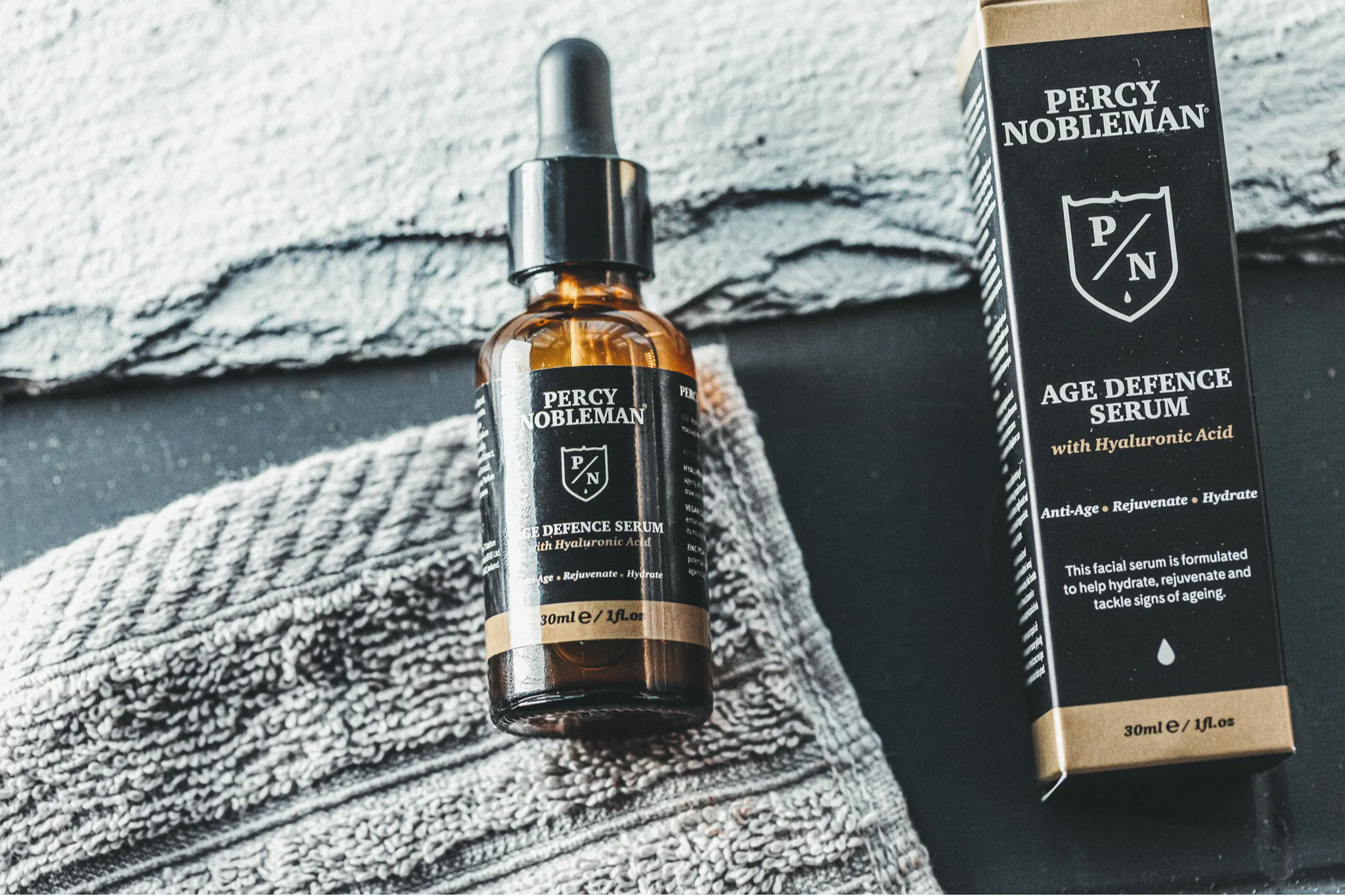 Step 2: Hydrate
Maintain grace and decorum by keeping signs of ageing at bay with the Age Defence Serum.
This vitamin-rich serum will give you the confidence to tackle your most remarkable adventure yet! Meticulously crafted with the inclusion of hyaluronic acid, this serum helps to keep the skin youthful and hydrated. Along with the marvel that is zinc PCA, to help regulate oil, this product will be a guaranteed essential in any man's wash bag.
Apply a few drops of the serum to the palm of your hand and gently pat it into the skin. Wait around 3-5 minutes for the product to fully absorb before moving onto moisturiser.
Top-notch Percy tip: Applying this product to slightly damp skin will help maximise skin hydration.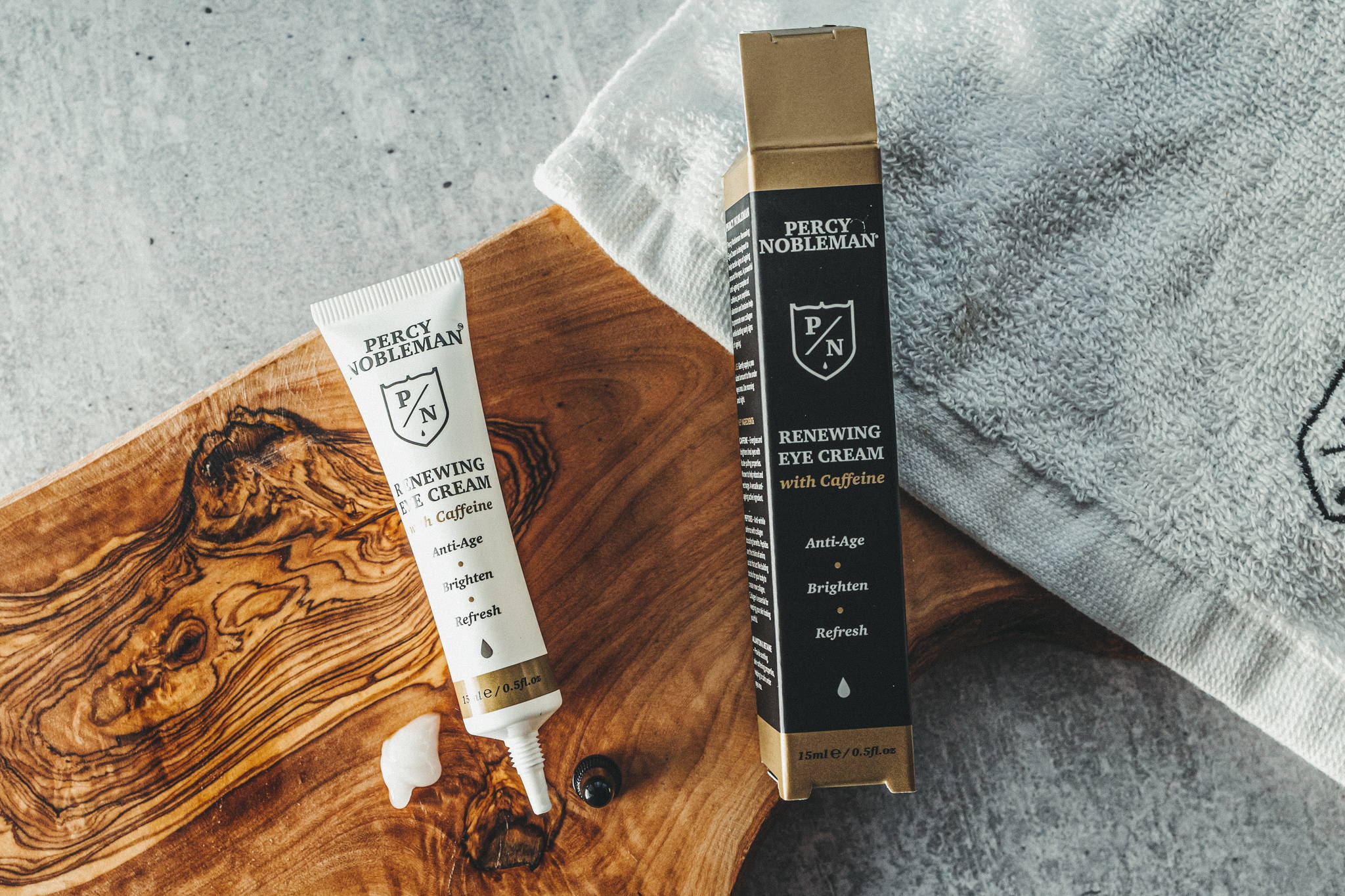 Step 3: Refresh
Designed to energise your under-eyes, the Renewing Eye Cream contains a powerful anti-ageing complex along with reinvigorating caffeine. Pure peptides (sure to be every gentleman's skincare confidant) help reduce the appearance of fine lines and wrinkles, whilst allantoin & betaine provide soothing and calming benefits. The perfect pick-me-up for tired eyes!
Apply a pea-sized amount to the under-eye area and gently pat to avoid tugging at the sensitive under-eye skin. Perfect for applying whilst waiting for your serum to fully absorb.
Top-notch Percy tip: To age gracefully, use your ring finger to apply the eye cream for the gentlest application.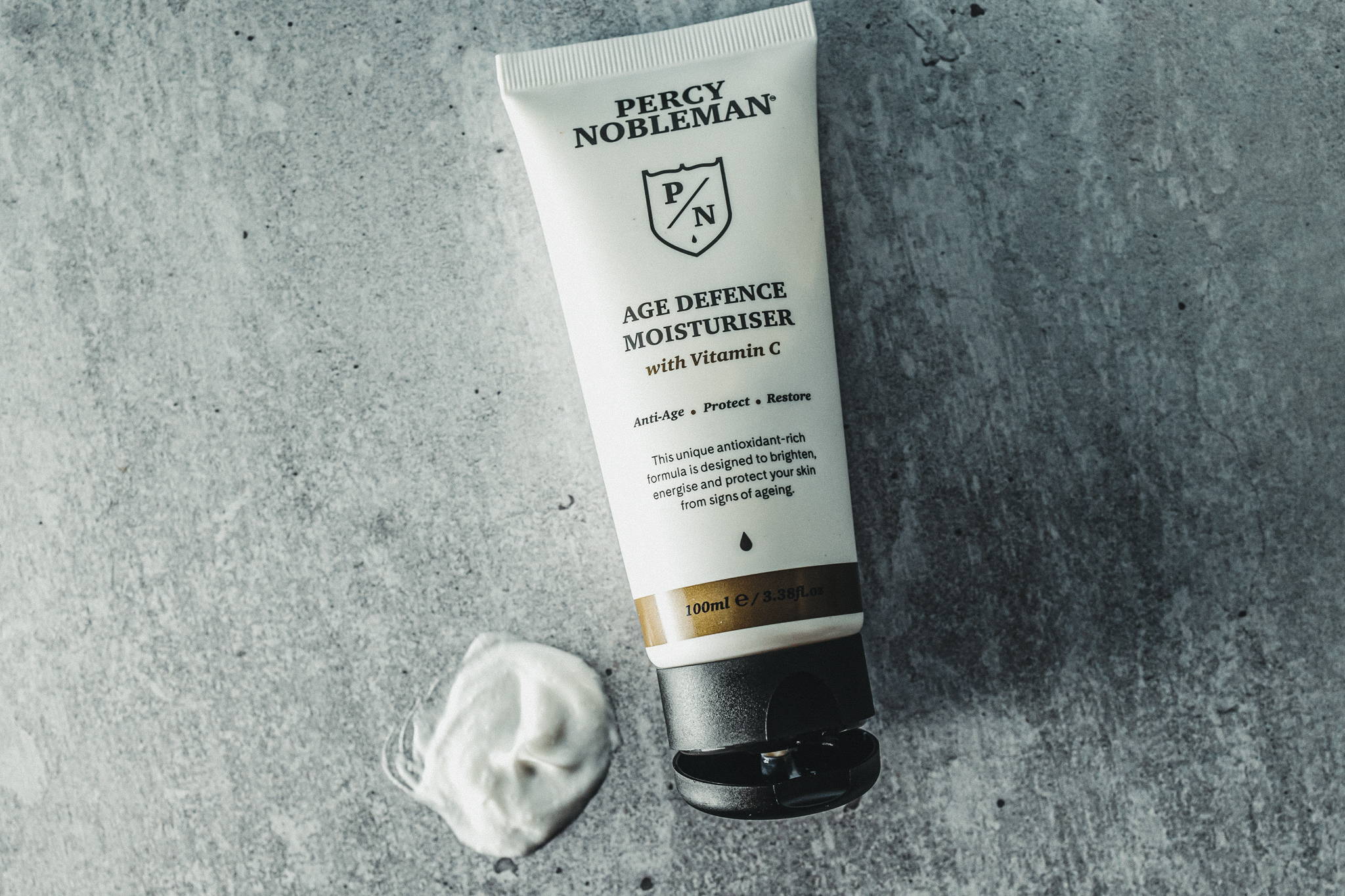 Step 4: Moisturise
Complete your regime like a true squire and protect your skin with the Age Defence Moisturiser.
By applying this final step, you are ensuring even the most lacklustre skin is quenched. This premium product has been specially formulated with a unique blend of ginger root, vitamin C and griffonia seed extract to keep your skin firm, energised, and looking its best ahead of your next escapade.
Using slightly more than a pea-sized amount on the palm of your hand, gently massage the product into your face and neck. Start by applying the moisturiser to your cheeks and use circular motions to disperse the product evening, following with an upward motion on your neck.
Top-notch Percy tip: Rub your hands together to warm up the product before applying it to your skin.
So, there it is! Your new failsafe skincare routine.
I hope this nimble guide has demonstrated how simple whilst still effective skincare can be when you entrust the correct products. Better yourself and your skin, and be ready for whatever adventure awaits you!
Until next time chaps,
Your friend,
Percy Nobleman