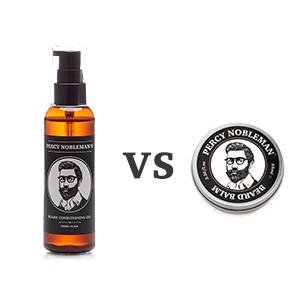 When it comes to our Beard Balm, the question we seem to get asked the most is "What is the difference between your oil, and your balm?" 
Or similarly, "When do I use the balm? And can you use both the oil and balm in conjunction together?"
Now, although the title indicates a battle between the two products with only one winner, I thought instead I'd write a blog post clearly indicating the differences between the balm and oil and what to use when, along with some useful grooming tips & tricks.
Ingredients & appearance 
This is going to sound obvious but the oil is essentially, a blend of oils, while the balm includes a mixture of both oils (e.g Jojoba & Babassu) and natural Shea butter and Beeswax.
The balm is similar in texture to a natural lip balm or light hair wax, which when heated up in your hands turns into an oily smooth paste.
The oils in both products are used to help treat beard itch and the flakey skin underneath your beard, along with working as deep conditioning agents.
This ultimately softens, tames and aids the natural growth of your beard.
The shea butter and beeswax in the balm also helps to condition while offering further control and a light hold.
When to use beard balm & oil 
I would advise men in the early stages of their beard growth (months 1-3) to strictly only use beard oil.
This is because the oil is much lighter and works better at softening your stubble or shorter beard.
Applying it each morning, along with regular trimming and combing is a great way to get started.
At this stage, using a beard wash every other day will also help your growing beard feel permanently fresh and clean.
When to introduce beard balm?
Beard balm includes shea butter & wax along with heavier oils. Because of this I would suggest using it when your beard reaches at least 1.5 inches in length.
At this stage your beard will start to become very dense, and also may need the help of the wax in the balm to control any fly away hairs. 
The balm is a denser substance so should be used hand in hand with thicker and coarse beards. The oil is lighter, and can be used more liberally as your confidence grows in the product.
Can I use beard balm & oil together?
The short answer is, yes.
Daily I receive many questions from customers reaching out asking for help and advice on their quest to grow and maintain their beards.
I love this, it's one of the perks of the job. However, one point that rings true with nearly every single answer I give is, "trial and error".
Each and every beard is different and needs a special routine tailored to suit your personal grooming needs.
We have helped somewhat with this, in releasing products that are designed to work together to help you achieve your ideal grooming routine.
With this in mind, here are some brief suggestions on how you could use the products together.
1. After showering each day, apply a small amount of our beard oil working mainly to the roots. Then apply a small amount of our balm to the outside of your beard, treating it like a light wax to give it that desired hold.
2. Apply one in the morning and the other at night. This is simply down to personal preference, and may be suitable to beards that are particularly coarse and troublesome, along with the consideration of which aftershave you may be wearing that day.
3. Apply on alternate days, or simply stick with your favourite!
Tips & Tricks
- Scoop our balm out using the back of your thumb nail like an ice cream scoop. Then warm it up in the palm of your hand before applying.
– Use our oil in your hair in conjunction with our natural styling wax. This will give an incredible shine and hold to your hair.
– For weekend travel, take just the balm with you. It's less likely to spill and cause a mess in your wash bag.
– In need of an impromptu shoe shine? I often use our balm on my leather shoes when in a rush and on the go. It includes similar ingredients to the famous oils & waxes available by Dr. Martens in their shoe care products.
– Dry & cracked skin or lips? All our products work great to help with a multitude of minor ailments. You can use our balm on your dry lips, while a couple of drops of our oil in the bath always go down a treat!
For any questions you may have please contact info@percynobleman.com, and for future product discounts, grooming tips and more, please sign up to our mailing list. You can do so by scrolling to the bottom of our homepage.
Yours,