Wax on, Wax Off: A Guide to Applying Moustache Wax the Right Way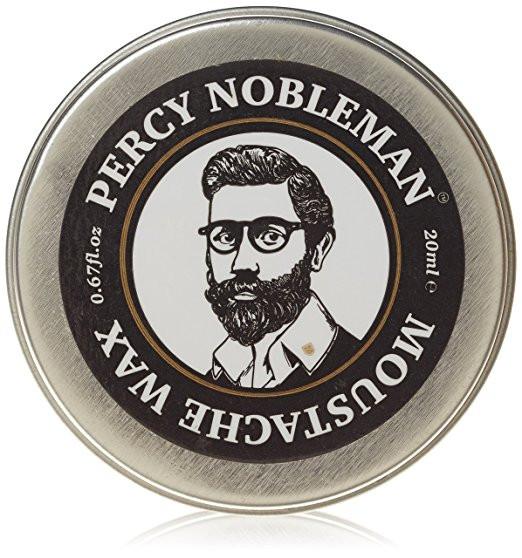 Good day fine sirs!
It truly is beginning to feel like summer here at Percy Towers and I hope that wherever you are the sun is shining and your beard is in fine fettle.
If you've spent any amount of time perusing the internet for advice on facial hair, you'll have noticed a huge amount of information on beard grooming but nowhere near as much on moustaches.
As such, I wanted to take a moment of your time today to talk about Moustache Wax; what it is, how to apply it correctly, and also how to remove it without causing damage to your lip bristle.
Moustache Wax: What is it and What's in it?
Moustache Wax is essentially a stiff pomade which is applied to ones moustache as a grooming aid to hold the hairs in place throughout the day.
When I started researching the best ingredients to use for my Moustache Wax my aim was to create a formula which would:
Contain the best ingredients

Perform consistently at holding my moustache in place

Not leave any sticky residue
The Percy Nobleman Moustache Wax is an incredible amalgamation of shea butter, babassu and argan oils along with an American beeswax base.
I deliberately chose these ingredients as the oils are natural conditioners which, when applied with the wax, will help to make sure your moustache hair isn't suffocated despite the application of the wax.
This way you'll be able to be in control of your moustache throughout the day without causing potential damage to the hairs themselves.
Not only that, the oils in the wax are good for breaking it down to aid the process of application.
Why Not Just Use a Generic Hair Wax Instead?
Unlike your hair, moustaches come into contact with a lot of things throughout the day that can leave them looking unkempt.
Eating, drinking and even just having a good old fashioned chin wag can have an adverse effect on the look of your moustache.
For this reason, the formula for moustache waxes has to be that much more robust to withstand this.
Not only that but some hair products have chemicals in them that are not friendly to your body if consumed by accident.  This can happen inadvertently when eating or drinking.
Source: http://en.wikipedia.org/wiki/Moustache_wax
Heating The Wax
The majority of moustache waxes are beeswax based. When you open your moustache wax tin for the first time, you'll notice the wax has a very hard consistency.
Without the correct knowhow, this can make application quite tricky.
With my Moustache Wax I suggest simply warming the tin before application.
By warming the tin, the wax will become malleable causing the shea butter and the oils within the wax to really come to the fore.
There are many ways you can warm the tin. Either use a hairdryer, leave it for a few moments on a radiator or warm vent or, failing that, just keep the tin in your back pocket.
This will help to keep the wax at just the right temperature for application even whilst you're on-the-go.
Preparing The Wax
Once warmed, use the back of your index finger or thumb nail to scoop out the wax.
I find a small half-pea-sized quantity is more than enough to begin with.
Then simply rub the wax between your thumb and forefinger to soften it further still.
Once it has coated the pads of your thumb and finger and then you're ready to apply.
A word of caution if you're new to the world of Moustache Wax; don't use too much to begin with.
It's easy to apply more if you need to so start with a small amount as how much you will need to use is all dependant on the size of your moustache.
Also, when rubbing the wax between your finger and thumb make sure to massage out any clumps of wax there may be as the smoother the consistency of the wax, the better the final result should be.
Sources: http://www.firehousemoustachewax.com/Application.html
http://www.canyouhandlebar.com/pages/how-to-apply-moustache-wax
How to Apply Moustache Wax
Working from the centre outwards use your thumb and index finger to apply the wax evenly to your moustache.
By starting in the middle and working out you'll have more control over the hairs as you'll be working with the natural direction of growth.
Some people opt to use both hands so they can apply evenly to both sides of their moustache simultaneously but this is entirely up to you.
If you are going for the classic handlebar look for your moustache you'll want to work the hairs towards the ends of your moustache and then gently twist them up and round at the points.
Shaping your moustache is something that will take a lot of time and effort but with persistency it's a look that many a gentleman can master.
If you do have a bushier moustache then it will obviously need a little more care and attention.
My Moustache Wax comes in a pocket-sized tin for this exact reason.
I normally find one application at the start of the day is enough to keep me going but, on the off chance of stray hairs during the day, I find a thumb-print sized dab of wax is more than enough to help keep any stray hairs in place.
This technique is particularly useful for tidying up your tache after eating or drinking.
Source: http://www.canyouhandlebar.com/pages/how-to-apply-moustache-wax
http://www.urbanbeardsman.com/2013/04/how-to-apply-mustache-wax
Helpful Hints on Removing Moustache Wax
When it comes to removing the wax at the end of the day I suggest using a small amount of my Beard Wash.
Gently work it into the hairs and leave to soak for a few minutes, then rinse with warm water and towel-dry before applying a drop or two of Beard Conditioning Oil.
Sources: http://menshair.answers.com/facial-hair/how-to-use-moustache-wax
http://www.handlebarclub.co.uk/wax/wax.shtml
And there you have it, a guide to achieving the best results with Moustache Wax.
I'm always here to help as I want you to get the most from your facial hair and the very best from using my products so please keep those emails coming in as I love answering your questions.
Until next time.
Yours,