Beard Wash vs. Generic Shampoo: The Importance of Beard Discipline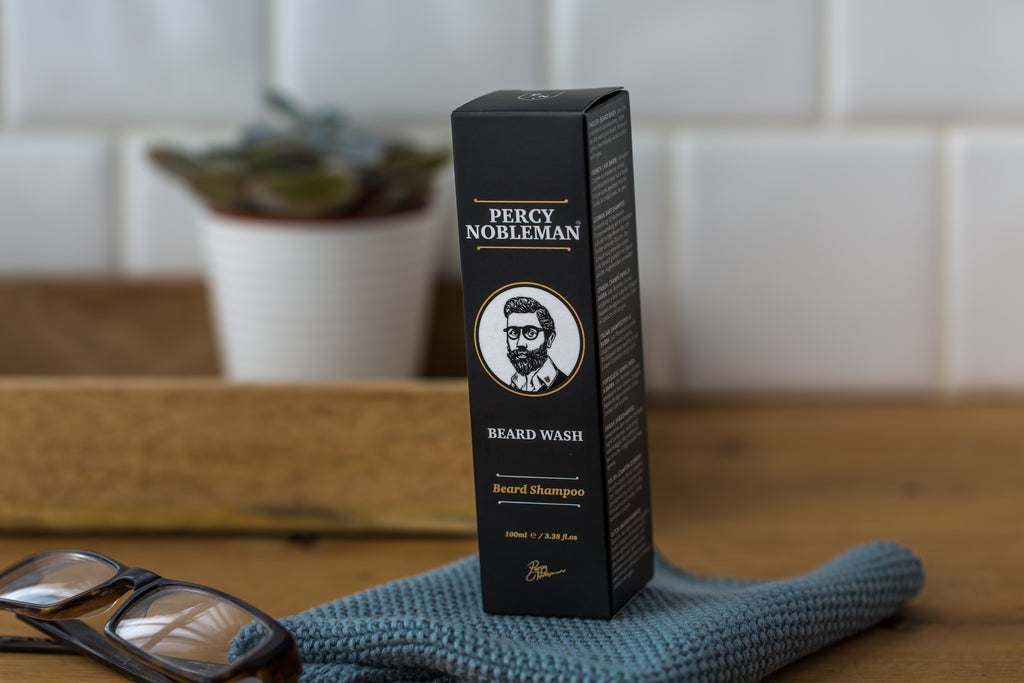 Good day my fellow disciples of all things bearded!
I hope this week finds you and your beard in premium condition.
If there's one thing I've learnt in life it's that if you want to achieve something of true value, then you must be prepared to work hard for it.
If you've read my ongoing comic series you'll know that I don't just wake up looking like I do.
It takes a dedicated routine, experience, and above all else the right tools!
In my last blog I spoke about the reasoning behind the formula for our Beard Conditioning Oil and today I'm going to talk about the importance of using a specialised Beard Wash as part of your daily grooming routine.
The Beard Itch Problem
 One of the most common queries I receive from new customers is, 'What can I do to prevent beard itch and dry flakey skin?'
Well, there are a number of different things you can do on a daily basis to prevent this from happening to you.
However, the very first and most important piece of advice I can offer is to use a recognised beard shampoo, preferably my Beard Wash.
Why Using A Recognised Beard Wash is So Important
 You might be thinking, what's the difference between hair and beard shampoos?
The main difference between the two is that if you regularly use off-the-shelf hair shampoos to wash your beard, then the chemicals in them will be stripping your beard of its natural oils.
Not only that but they can also dry out the skin underneath your beard hair.
From this your beard can be left dry, coarse, and brittle.
Furthermore, there is a greater chance of your beard hair breaking, falling out or being prone to bald patches due to weakened roots, not to mention a heightened chance of split ends.
As an aside, it's important to note that any washing – including simply rinsing and drying your beard – can remove the natural oils in your beard.
By using recognised beard shampoos such as my Beard Wash, you will greatly reduce the risk of this happening.
My wash is specifically designed to work with instead of against the natural oils produced by your skin and hair.
Source: http://www.titlebeard.com/2014/06/beard-advice-vol-2-so-you-want-to-wash-your-beard-now-what/
Battling Beard-ruff, and Itchiness
 There are many other benefits to be gained from using a recognised beard shampoo.
A growing beard can become itchy if not given the care it deserves, especially in the early stages of growth.
Consistent scratching is one of the absolute no-no's if you're looking to avoid beard-ruff.
The Percy Nobleman Beard Wash is formulated to moisturise your beard and help avoid dry skin – the precursor to the scratching stage.
Beard Pong?
Yes, you read that correctly, and no, it's not a typo.
Beard pong is real and, if you don't regularly wash your beard then you're putting both yourself and your beard at risk of becoming rather unpopular!
On a daily basis your beard comes into contact with all nature of things from food and drink to dust and dirt (especially if you live in a large city).
Built up over time, these can all have a negative impact on how your beard smells.
By simply washing your beard 2-3 times a week with beard shampoo you'll help avoid being caught out by dreaded beard pong.
Source: http://www.esquire.com/style/grooming/advice/a26176/beard-care-1113/
So How Often Should I Wash my Beard?
 How long is a piece of string?
Everyones grooming routines are different, and the chances are that you'll know yours better than I do.
However, if you're unsure and looking for advice, then I'd suggest starting by applying beard wash 2-3 times a week.
This should be enough to keep your beard feeling soft and smelling nice without overdoing it and risking irritation from over-application.
If your skin is naturally oily or your beard is longer than most, then you may wish to increase your usage to 3-4 times a week.
There are many factors to take into account such as how long, coarse or thick your beard is, however with time, you'll begin to understand what works best for you.
Source: http://www.beardsmen.co.uk/How-Often-Wash-Beard/
I've Washed my Beard, So What Next?
 Once your beard has been washed you should use a recognised beard oil.
Like the wash, my Beard Conditioning Oil will help soften and tame your beard.
It's specially designed as a leave in conditioner to both nourish and moisturise your beard throughout the day, and also helps with the prevention of dry skin around the roots.
If your beard is already fairly long (1-3 inches in length), I'd recommend trying Beard Balm. This is specifically designed for longer beard types as a soothing remedy to help soften longer hairs and keep you safe from beard itch.
Source: https://www.birchbox.com/guide/article/dry-itchy-beard
That's about all for now. Thank you for your continued patronage to all things Percy!
We love to hear your success stories from using my products so please keep those emails coming in and keep growing those beards!
Until next time.
Yours,