How to Grow a Beard by Percy Nobleman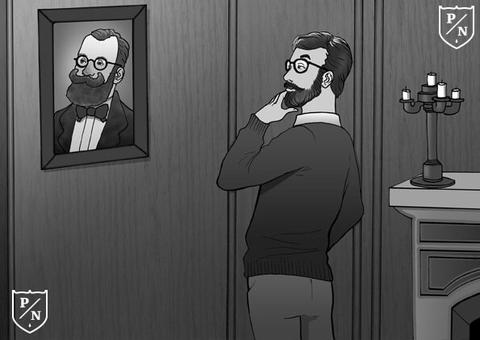 How do you grow the perfect beard?
Sometimes I get the feeling people are looking for a secret formula hidden under lock and key away from the public eye. The truth is, it's all about patience, dedication, the right know-how and, of course, using the right products.
Things to consider:
- It's in your genes. Unfortunately gents, some things in life are simply unattainable. So follow the tips below, and see if we can circumnavigate the worst our genes can do for us! Here is my guidance:-
- Patience. Rome wasn't built in a day, and beard growth takes some time. Try to focus on each step of your progress without getting yourself worked up about getting to the end goal within a month or so. Growing a beard is a commitment, and one you should take pleasure in committing yourself to.
- Invest in a decent beard trimmer. This may sound counter-intuitive but in the early stages regular trims will actually promote growth and keep your beard tidy and even-looking. You can use the smallest setting around the sides, moustache and sideburns to give your beard some shape. My advice at this stage is to practice trimming as much as possible. It gets a lot harder the longer your beard, and of course you have more to lose then! As it grows make the switch to some scissors, or a trip to your local barbershop. Beard trims are always reasonable (and remember, it's always important to support local businesses).
- Grooming. Don't over-indulge. It's tempting to get carried away when your beard is beginning to get to the length where you can apply oils and balms, and enjoy a natural wash. A word of advice (which I hope you appreciate coming from someone who sells these products) is 'don't overdo it'. Please follow the step-by-step guide I have put together:
My Simple 6 Step Grooming Routine.
This routine has been put together to help tackle the most common pain points: itchy beards, flakey skin and having a dry, brittle, or coarse beard. It's important to understand your skin type before commencing. If you're prone to acne or have oily skin, use the products sparingly, or if your skin is very dry, use more liberally!
STEP 1
Wash your beard with a recognised beard wash 2-3 times a week. Work into the roots as part of your washing routine and leave for a few minutes before rinsing out with warm water and towel-drying.
STEP 2
Once dry, apply a few drops of Beard Conditioning Oil to your beard working into the roots.
STEP 3
Comb your beard. Work from the outside in and from top to bottom preferably with a wooden anti-static beard comb.
STEP 4
Once you've combed your beard you'll be able to notice any stray hairs: using a sharp pair of beard scissors trim these down. You can, if you wish, apply a drop of beard conditioning oil to the blades of the scissors to assist. If your beard is under an inch in length use a beard trimmer gradually working your way to the longest setting over time.
STEP 5
If you have a longer beard (1+ inches in length) apply a small amount of Percy Nobleman Beard Balm (you can use this an alternative to beard oil) or Gentleman's Styling Wax to the outside of your beard for full control.
OR
If you have a moustache then apply a small amount of Moustache Wax from the centre outwards working with the natural direction of hair growth. Style as you so please!
STEP 6
Leave it be. You've just given your beard a lot to work with and, as tempting as it may be to play with it, it takes time for the oils to be fully absorbed into your beard hair.
Other things to consider:
If you're really serious about growing the perfect beard then you'll want to maintain a healthy balanced diet. It's important to try and eat lean and avoid high sugar foods. Not only will this fuel your body and mind in a much more efficient way, it will also have a positive effect on your beard growth. High natural fats such as nuts, avocado, olive oil etc. are all beneficial to your body, whilst staying away from large amounts of carbs and drinking plenty of water will also help, as well as having plenty of regular sleep!
If you're a busy gentleman, as I am, then then you can enjoy some of these advantages through supplements. I take Omega 3 and MultiVitality Pro (which contains every vitamin under the sun!). I'm not promoting these as "magic beard growth pills" but supplements will help to fill in the gaps of your daily vitamin intake. Providing your body with these, along with regular exercise, will help your brain activity and your body will feel great.
Things to look out for: be diligent.
Since being involved in the cosmetic industry my attitude towards the cosmetics I use day-to-day has changed. While my plan is not to push PR-led propaganda on the dangers of certain ingredients, I would encourage consumers to keep an eye-out and understand what's going in the products they are using. Check out imported cosmetics as the regulations in the USA are very different to the UK, and often lines are blurred or indeed crossed, on imports. I still see many British start-ups without legal labelling, testing and legislation for their products.
What you will find in my bathroom cabinet.
Hair products (paraben free), I love water-based pomades. They offer an amazing matt-like finish with a strong hold that doesn't need a mound of shampoo to wash out. They wash out with warm water, yet hold as if they're made out of glue. We aim to bring out a collection of hair products to accompany our natural hair & beard wax later this year.
A boar-bristle beard brush. A quality brush is not cheap but worth the investment, as after using one you will never go back! Not for the faint hearted though.
Adding to that a collection of aftershave, wooden combs, hundreds of Percy Nobleman samples and all natural shampoos, conditioners and deodorants!
If you have any questions, feedback, or need help with your grooming, feel free to drop us an email at help@percynobleman.com
Best,