Men's Grooming Day: 4 Hairstyling Products to Achieve Your Perfect Look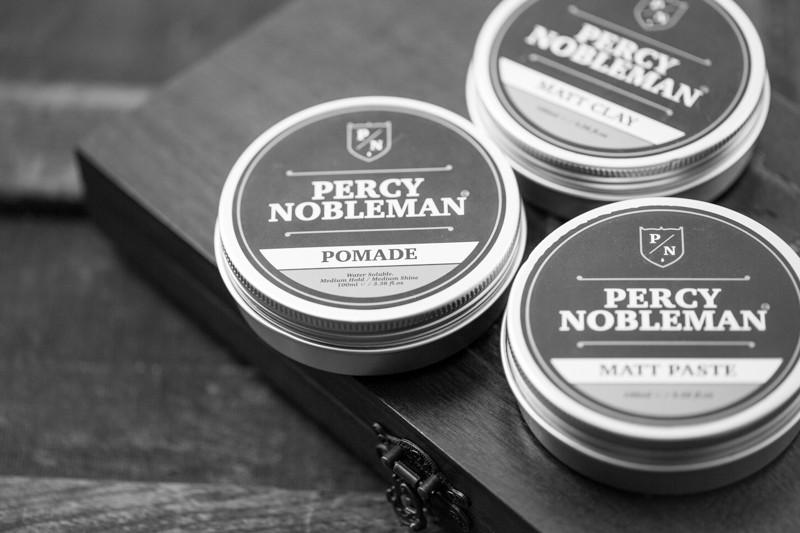 For those of you who have followed my previous posts you'll know that I'm an ambassador of gentlemen's grooming, and as today marks Men's Grooming Day across the globe I've put together a series of short posts to help you get the very best from your grooming regime.
Hair, we've (almost) all got it to some degree. Whether yours is curly, long, short or thinning, the market is flooded with products designed for all eventualities of hair-related life. The trick is discovering what works best for you. Below you'll find listed my top 4 hair-styling products along with a handy infographic designed to help discover the product which best suits your hair type at the bottom of this post.
Pomade  - Best for: Long, Straight Hair Types, Long Moustaches
They say that fashions and trends come and go, and whilst I won't always agree with that statement, (see my other blogs!) it's clear to see that the traditional greaser-style slicked back look has made a serious comeback in recent months. You only need take a look round the bar at your local craft beer establishment to recognise that pompadours are on the rise, and the modern take on the pomades of the early C20th available on the market are responsible for this.
Pro Tip: Look for a pomade that's water-based and apply to damp hair before combing back. In times gone by the main base ingredient for pomades was oil or lard - can you imagine trying to get out of your quiff?! Whereas nowadays water-based products mean your hair will stay in place all day and wash out with ease come night. Also, if you happen to be growing a moustache and need something which packs a bit of a punch to keep it in place, a pomade is the perfect solution to hold those curls nice and rigid!
Matt Clay - Best for: Short, Straight Sculpted Hair Types
A staple product which, if used correctly, is perfect for producing a matt, natural-looking finish.
Pro Tip: Less is more, believe me! The mistake a lot of people make when using matt clays is over-application. Because the base ingredient for most clays is usually petrolatum (oil to you and me), if you use too much you're at risk of leaving yourself with a greasy quiff. That's not to disparage you from using a matt clay; you'll find that a lesser application will leave you with a natural-looking style which you'll be able to shape and restyle at will throughout your day.
Matt Paste - Best for: Curly, Thinning Hair Types
There have been a surge in matt pastes on the market recently and what was once a well-kept secret has now come to the fore of gentlemen's hair-styling. If you study the market you'll find a wide variety of viscosity between products with the same name. Some have a thick glue-like consistency whilst others will perform more like a cream. Matt pastes are generally designed to give lift to lifeless or thinning hair types whilst also achieving a matt hold for even the curliest of hair types.
Pro Tip: Be gentle when applying, especially if your hair is thinning. Yanking at the roots of your hair with a comb is a surefire way to help achieve the 'Homer Simpson' look.
Styling Wax - Best for: Short, Textured Hair Types
If you're after a natural hair styling product then your best bet is to go for a styling wax. Most waxes these days are made from beeswax although there are 'vegan-friendly' waxes on the market if it's an organic product you're after. Perfect for creating texture and hold in shorter hair types, styling waxes also afford the user the ability to restyle and shape throughout the day.
Pro Tip: Is your beard looking a little out of sorts? Applying a small amount of styling wax should help your facial hair stay in shape and free from flyaway hairs.
Percy Nobleman's Gentleman's Styling Wax
Still stuck on the right product for you? Check out the infographic below to help you decide! 
Until next time. 
Your friend,