Mens Hair Styling Products - Best Code of Practice!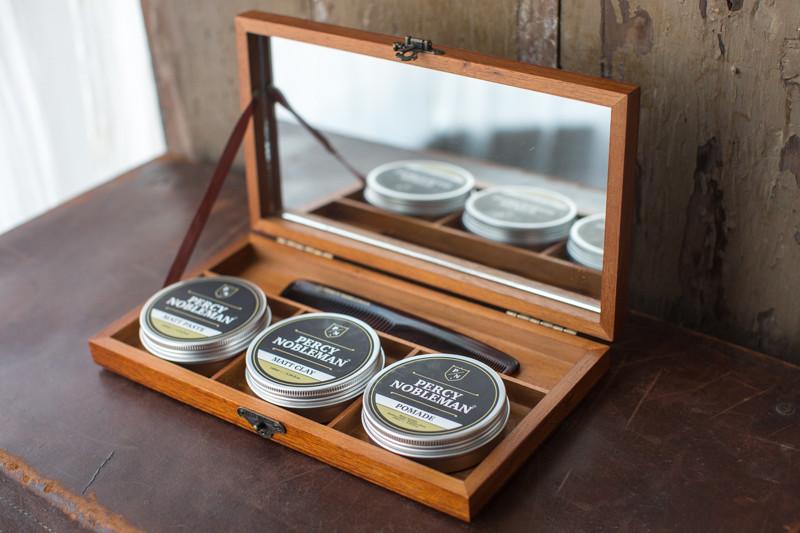 A definitive guide for men. Wondering where to start, what product to buy, and how to style your hair? Percy is here to help! 
"It was an odd situation. For a century and a half, men got rid of their own hair, and instead covered their heads with something foreign and uncomfortable. Very often it was actually their own hair made into a wig. People who couldn't afford wigs tried to make their hair look like a wig." Bill Bryson, At Home: A Short History of Private Life.
Since the early 20th century, men have applied product to their hair. It was a cultural phenomenon, as Bryson aptly comments.
But what exactly transformed gentlemen from wearing home-made wigs, into sporting James Dean-esque Hollywood quiffs?
Percy's answer – "A little of my finely cultivated styling products!"
Either way, Shakespeare himself was probably one of the men Bryson refers to… at least he avoided the comb over! 
But where do I start?
I've designed a sleek looking infographic above to help you on your way.
Like many things in life, it's horses for courses and one product could leave you looking like an enviable 'Casanova', While another, well… let's not go there.
Each product explained: 
A smooth, water based hair styling aid.
No product feels better when applied straight out of the tin.
Want to look like Leonardo DiCaprio in the Wolf of Wall Street? Or is a 1920's slick side-part your thing? This is your product.
Unlike many others, it works well for thin and thick hair, as it's primary purpose isn't to add volume, or tame, but control!
You'll be pleased to hear that it does this all day!
Despite its similarities in viscosity to a 90's hair gel, it makes up for that in style, and substance, without the crisp and flakey finish!
Medium shine and high hold.
Our Pomade is the sleekest product in our hair styling range. 
How does it differ to a 'traditional pomade'?
 A 'traditional pomade' would be a simple blend of petroleum (think vaseline), mineral oil (think baby oil) with some fragrance.
This leaves your hair heavy, weighed down and greasy.
Percy's Pomade is light, water based, easy to wash out, doesn't crisp, and will leave you looking sharp! Big difference. 
"It was something new. It didn't leave my hair looking wet and feeling crisp, and it gave a '2 day without a wash' look to the hair I'm trying to embrace before it falls out." A nostalgic memoir, reminiscing on the summer of 2008.
Many men have converted to Matt Clay and never looked back.
Be warned, it's the polar-opposite to a Pomade.
A thick, heavy, waxy product that is good for taming thick manes. Not recommended for men with thinner hair.
This product when applied to damp hair, will give you a matt, strong hold. When applied to dry hair, it will give you a matt, medium hold.
Perfect for texturised, bed-head looks, and for giving that eloquently dishevelled appearance!
Our Matt Clay is not water based, so will need washing out. Although the oils in the product will help to condition your hair! 
Arguably the most versatile product since the start of the grooming revolution.
Perfect for adding volume to thinning hair, it's light and easy to apply.
Viscosity is a mid-point between a regular wax and a pomade. This paste washes out with ease.
This is our desert island hair product.
Perfect for controlling thick curls, and when applied generously, like a Pomade, it will hold all day! Get one here!
A natural styling aid, great for anyone who suffers from an itchy or flaky scalp, as it doubles up as an effective remedy.
Shea butter helps to condition and beeswax is full of antibacterial properties.
This is a hair styling product without synthetic ingredients.
It's a pure blend of beeswax, shea butter and kernel oils. Fragranced with Bergamot essential oil.
What makes a Styling Wax so different?
I named this product my "Gentleman's Styling Wax", to exemplify it's versatility to the modern man. Can you use it in your beard and moustache too? Of course!
One thing to consider - once applied, it gives a natural, low-shine finish and a medium hold.
Apply using the back of your thumb as a scoop and then heat the wax between your palm and fingers. 
So there we have it - an infographic aimed to help guide your decision making, and a short synopsis on each product available in the Percy Nobleman Premium Gentleman's Grooming Range. Something for everyone. 
Keep it well groomed, gents!
Yours,