Percy Nobleman's Ultimate Beard Styling Guide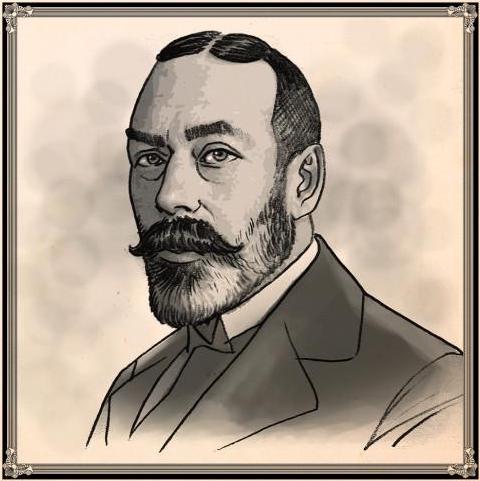 The Definitive Guide To History's Best Beards & How To Grow Them!
Undecided on how best to groom your fledgling beard? Looking for a style that sets you apart from the pack?

Although it may seem the ubiquitousness of facial hair is a modern phenomenon, for centuries now noblemen have been indulging themselves in men's grooming.

So much can be learned from the bastions of beards that came before us... 
Indeed, what better way to find inspiration for a new look than by studying the best beards of yesteryear?

Whether you're interested in growing a short, medium or long length beard, Percy's Ultimate Styling Guide will help you at each stage of your bearded journey, preparing you for your next follicular adventure.
What You'll Need
Time, patience & fearlessness!
Growth Time
Named after the famous mountaineer, The Edmund is the lazy mans beard, and is probably the best place to start if you've never grown one before. By growing your beard for 3-4 weeks without any intervention, you'll begin to learn a lot about your facial hair… areas where it's thicker, whether it grows straight or not, or how high up your face your beard is growing. This style doesn't require any kit or styling – just a little time.

Put yourself in Edmund Hillary's shoes (or climbing boots) and imagine you're half way up Everest without access to a razor, shaving cream or even a mirror! Wait 3-4 weeks, then get to work deciding upon how you're going to contour your beard. Or, if you like the slightly scruffy look, leave it as it is.

During the first few weeks as your stubble grows longer you may experience the dreaded beard itch. Using a small amount of our Face & Stubble Moisturiser and Face & Stubble Wash will help combat this and keep your face feeling fresh and protected against the elements!
What You'll Need
Growth Time
The Clint is essentially the better-kept Edmund. Once you've grown your facial hair out for 3-4 weeks its time to take your beard into your own hands and nurture it a little bit. The aim is to tidy up the hair to make it look uniform – the same length all around your face.

For this look, go for a length of 5mm. You'll need to trim your beard about once a week. Applying a pump or two of Signature Beard Conditioning Oil after trimming will help keep it soft, tamed and fragrant.
What You'll Need
Growth Time
Named after the most famous Paul in Hollywood, the Newman is an even tidier version of the Clint and is, in our opinion, the ultimate short beard.

Paul Newman wasn't famed for his beard, and for most of his life he didn't even have one, but when he did he rocked it.

To achieve The Newman you need to uniformly trim your beard to between 5-6mm each week. Get rid of the neck beard altogether. Keep your cheeks tidy, and beard line straight and neat using your beard trimmer and the flat side of your beard comb, or a straight razor.

Use our Gentleman's Styling Wax for styling your beard and slicking back your hair as well as some Beard Conditioning Oil to add a little shine and conditioning!
What You'll Need
Growth Time
The Young Walt is what The Newman can become with more time, added care and a good dose of optimism.

Whilst keeping your neck hair shaved, and your beard line neat and tidy, you'll want to grow out your beard.

Using a pair of Beard Scissors, craft your beard so that it extends outwards from your chin in a rounded point. Use Beard Balm to add some light control and shape to your beard. Comb regularly!
What You'll Need
Beard Trimmer

Straight Razor
Growth Time
It's easiest to achieve this look if you've spent the last 4 weeks growing out your beard Edmund style. From there, you'll want to shave off your neck hair, moustache and soul patch - and keep these clean shaven. 
Again, use a beard trimmer with a comb, or a straight razor to achieve the lines around the outline of the beard that go from the sideburns and follow the jawline round to the chin.

Add a bit of volume to this look by puffing the hair outwards using your hand or comb.

If you want to go full Lincoln, Matt Clay works well on loose, unruly presidential style hair, while our Gentleman's Styling Wax will keep your beard uniform and in check.
What You'll Need
Growth Time
Up to 12 weeks for good moustache length
You certainly can't shake hands with a clenched fist - nor can you style your beard!

Not a lot of men are daring enough to attempt the King George, but for those that are, follow these steps…

The King George is all about letting your moustache grow out while keeping your beard neat and tidy. This is the longest part of the process.

Like the Young Walt, trim your beard periodically in a uniform fashion. Keep the sides of your beard thin, and let the beard grow naturally downwards and out from your chin. Style your short beard with Beard Balm and a Beard Comb.

Don't trim your moustache however… let this continue to grow out. Start to mould and train your moustache hair – create a middle parting with a beard comb and get into the habit of combing each half towards your cheeks. Use a small amount of Moustache Wax to aid you in this.
Top tip: Refrain from cutting the hairs towards the bottom of your upper lip (that are encroaching onto the lip). Instead, continue combing these hairs outwards towards your cheeks and use wax to keep them in place.

Complete your look with a slick back centre parting, using our Pomade & Hair Comb.
What You'll Need
Growth Time
This is one of the most popular beard styles going nowadays…

It is the uniform beard – a medium length beard and moustache that is the same length throughout.

Brush your beard hair in a downwards motion each morning after applying beard oil. Use a pair of Beard Scissors to trim your moustache and edges. Applying a small amount of Matt Clay to your hair will allow for a soft, natural finish just like Hemingway's.

What You'll Need
Growth Time
To achieve The Shakey, use the Lincoln as a template: i.e. keep the cheeks and soul patch clean shaven.
You'll want to make your beard line slightly more round and not as straight as the Lincoln, and sculpt the tip of the beard into a rounded point – A bit like the Young Walt but even pointier.

Unlike the Lincoln, keep your moustache! Part it down the middle and mould the hair either side towards your cheeks using Moustache Wax just like the King George.

Top tip: A little Beard Conditioning Oil and Styling Wax in your long mane of hair will help keep it under control and well conditioned!
What You'll Need
Growth Time
The Galileo is a long, luscious full beard that doesn't have rounded edges or a point. To achieve this style you'll need time and a lot of patience!

As your beard grows, get into the habit of defining your cheek line and sculpting your beard with scissors into the square shape.

The Galileo is as thick as it is long so you may need to trim the end of your beard regularly to ensure the rest is keeping up.

This is a particularly thick beard! Use Premium Beard Oil liberally (this is specially designed for thicker beards) and try using a Beard Brush to help exfoliate the skin underneath your facial hair.

I usually say Beard Wash is mandatory, but if you have a beard this length, it really is…
What You'll Need
Growth Time
The Confucius is the ultimate, old wise-man beard style. Once you've achieved this look, don't be surprised if you become your team's go-to guy at the pub quiz, or people begin to assume you have a higher IQ than in reality.

All in all, a calm and steady approach is what you'll need to achieve the Confucius.

This is a long, straight, well-kept beard. It is much thinner than the Galileo, so your Beard Scissors will be needed for thinning your beard rather than trimming it, and use a Beard Comb rather than a brush.

Throughout the long growth process, using a Beard Balm will help condition the hair and keep any of the wilder, wispier hairs tamed and in place.
What You'll Need
Growth Time
Anywhere between 9 and 18 months
Not as long or kempt as the Confucius, and not as full and thick as the Galileo, The Darwin is the lazy man's long beard.

Achieving the Darwin is fairly uncomplicated – occasionally you may need to use your Beard Scissors or a trimmer to thin the beard. Other than that, it is unkempt and asymmetrical at the tip, so won't need too much attention. Just keep it well fed and watered (Beard Wash and Beard Balm, or Premium Beard Oil – daily).

This asymmetrical style means your facial hair will, over time, become the origin of a new species of beard!
What You'll Need
Growth Time
The ultimate metal head, 'master of all knowledge' look, The Da Vinci is a long, full, and soft beard. As full as the Galileo, but not as well kept, the Da Vinci beard is as soft as the hair on your head.

You'll need to use Beard Wash on a daily basis to achieve this softness, and apply Beard Conditioning Oil to keep your hair looking shiny and well conditioned.

As soon as you decide to grow this style, begin regularly combing or brushing your beard in a downwards motion to help manipulate the hairs growth path, and avoiding knots and tangles! 
That's it for now folks!
I very much hope you enjoyed the guide and now know which style you'd like to go for. 
Be sure to take a look at our range of beard grooming products by clicking below - they will aid you in your quest for the perfect beard!