2017 Men's Grooming Regime - New Beard Grooming, Skin Care & Shaving Products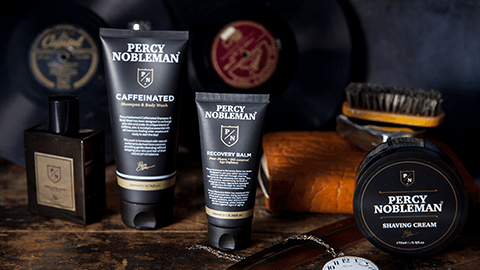 "One day I will find the right words, and they will be simple". Jack Kerouac
Most men strive for some sense of "grandeur" or "magnificence". We just want a sense of balance and a fulfilled life. Mind, spirit and character.
Start your day on steadier footing, with a new grooming regime. Enjoy a moment of nostalgia, luxury and sophistication with this complete line, by Percy Nobleman! 
Poetry through thought, through formulation, through development and through outcome! 
Style, Sophistication, Luxury, Tradition
Step 1: Caffeinated Shampoo & Body Wash
A gentle, yet energising start to the day. Recharge your scalp with a dose of caffeine, zinc and eucalyptus essential oils. Sulphate free, 98% naturally derived and suitable for all hair and skin types. Give your body the wakeup call it deserves! 
Step 2: Traditional Shaving Cream
Today, in reverie, and only in the midst of imagination could this be! A traditional Shaving Cream, by Percy Nobleman. An ode to yesteryear. This cream creates a smooth, thick lather, perfect for your chosen blade to glide through. Define your neck and cheekbones. Sharp edges. Sharp minds! This will take you back. 
Moisture retention is one of your body's best (and only) defences against ageing. This balm has truly mastered the art of skin protection. Good companions help you weather life's storms. True friends keep you feeling young. 
Percy Nobleman's Recovery Balm helps regenerate damaged skin barriers post-shave with its soothing anti-inflammatory properties. The oil-control formula works well as a moisturiser for your skin, stubble or beard. 
Helping you to protect your skin against the signs of ageing! What are friends for, they say...
This trio has been specifically designed for the modern gentleman looking to keep their skin revitalised, nourished and looking good. Designed to stop your body's fight back against oil-stripping washes that dry out your skin and hair. Perfect for light to heavy stubble, or shorter beard styles. 
The Philips One Blade Pro, accompanied with Percy Nobleman's Signature Beard Oil will help you to trim, edge, and style your beard. Leaving it soft, tame and under control. Keep those fly away hairs at bay! 
Step 6: Complete Your Look - Travel Tin
Grooming products are one of life's luxuries; an affordable piece of self-satisfaction. Waking early, preparing yourself for the day ahead and making your appearance just how you want it! I hope this guide has helped you to discover something new.
"No, no! The adventures first, explanations take such a dreadful time."  Lewis Carroll
 Until next time, 
Your friend,