The Benefits of Beard Oil: An In-depth Analysis into Why it Works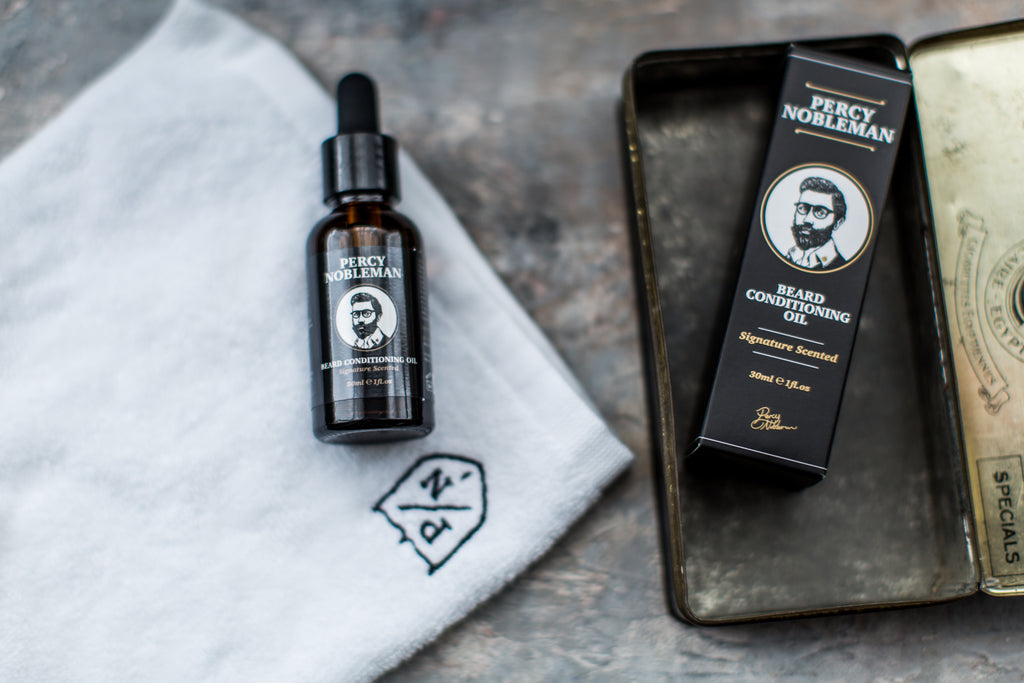 Good day once more fine sirs. I trust my latest blog finds you and your beard in tip-top shape having braved the winter months!
Since my last blog I've received plenty of messages from content customers championing my products, and I wanted to take this opportunity to go a little more in-depth to explain the various ingredients that make up my Beard Conditioning Oil. It's one thing to know that it works and yet another to know how it works.
One question I've heard from many a first-time customer is: 'What are the benefits from using your beard oil?' The oils that make up my Beard Conditioning Oil have been meticulously selected to help you achieve optimum success in the quest to tame beard frazzle and battle skin irritation that can be caused by natural beard growth. By reading this blog I hope to help to give you an insight as to why my products work so well and why you should continue to put your trust in Percy.
My Beard Conditioning Oil contains a measured balance of Argan, Avocado and Jojoba oils and it's for this very reason that the formula works so well.
What is and Why we use Argan Oil
Argan oil is a natural plant oil which derives from the kernels of the argan tree. Native to Morocco, argan oil has a number of uses from being used as a culinary ingredient right through to medicine. In terms of it's medicinal properties argan oil has been used to treat ailments such as juvenile acne and flakey skin.
However, as well as it's medical benefits, argan oil is also a natural moisturiser which is used throughout the cosmetics industry to nourish lifeless hair. Combined, these properties made argan oil an absolute must have when I started my search to create the perfect beard oil. I even visited Morocco with two of my associates to personally meet the women who help make the oil. This was to ensure, not only that my argan oil is of the highest quality, but also that it's ethically sourced.
The Advantages of Avocado
As with argan oil, avocado oil is also a natural moisturiser. Pressed straight from the fruit it's continued use in cosmetics stems from a high absorption rate and regenerative properties.
In layman's terms this makes avocado oil a perfect addition to my Beard Oil. Not only is it quick to be absorbed into the hair – a vital property for a leave-in Beard Oil! – but it also helps to regenerate split ends and corse hair.
Jojoba: Completing the Trilogy
Jojoba is a shrub native to a number of deserts worldwide from the Mojave to south westerly American states. Similarly to avocado oil, jojoba oil is easily absorbed into the skin as well as holding similar medicinal characteristics to argan oil.
Its continued use as a natural treatment for a variety of skin ailments as well as anti-inflammatory and antibacterial properties make jojoba oil intrinsic to the foundations of my Beard Conditioning Oil.
Combined, with their regenerative, medicinal and absorptive properties I'm proud to say these three essential oils form the foundations for my Beard Conditioning Oil.
For more information on the benefits of using these essential oils:
It's one thing to have the tools but do you know how to use them? As a general rule of thumb follow these simple steps when using my Beard Conditioning Oil:
Step #1. Wash your beard with a specialised beard shampoo. Preferably use my Beard Wash as it's designed specifically not to remove all of your beard's natural oils. It's also over 70% organic so you'll know your beard is getting the very best treatment.
Once you've rinsed it out towel dry your beard.
Step #2. Apply a few drops of beard oil to the palm of your hand. Remember to use sparingly (especially if you have naturally oily skin): a little goes a long way! First rub the oil into your hands and then work from the roots outwards making sure to apply to the skin underneath your beard too. This is to work the argan and jojoba oils into your skin to help moisturise and avoid irritation.
Step #3. Comb your beard. This will help work the oil through your beard hair.
Step #4. Leave it be! It may be tempting to play with your beard once you've finished applying the oil but you've just given it a lot to work with and the oil needs time to be absorbed.
If you're new to using beard oil then the best advice I can offer is experimentation is key. Beards are like fingerprints; no two are quite the same, and as such each beard will require a different amount of oil depending on how long, corse or bushy your beard is along with how naturally oily your skin is.
My advice would be to start with just a couple of drops and work your way from there. You can always add more at a later stage! Once you're confident with using the oil you can even start to introduce some of our other products into your grooming routine such as my Beard Balm or Moustache Wax. For more advice on using my other products please take a look at my past blogs where, for example, I take an in-depth look at how and when to introduce my Beard Balm into your grooming routine.
There's a lot of advice out there regarding how best to apply beard oil but should you follow my simple steps then you can't go too far wrong.
Further resources:
That's about all for now! Once again thank you all for your continued support, I do love to hear your feedback on my products so keep your emails coming and keep growing that beard!
Until next time.
Yours,
Percy.