Beard Combs: The Whats, Whys and Wherefores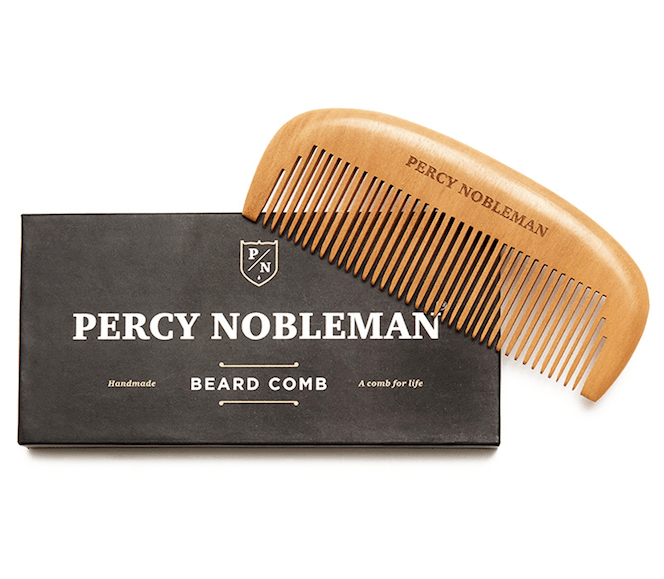 Hello again my bearded friends!
I'd like to take the opportunity today to talk to you about beard combs; specifically how they help you get the very best from your beard, and how best to use them as part of your daily grooming routine.
While you may think this subject is not rocket science, there are several pieces of advice I'd like to pass on to you that should give you an insight into the do's and don't's of combing ones beard.
Not all Combs were Created Equal
Looking around for the perfect comb for your beard can be quite an intimidating task if you don't know where to start.
From your bog-standard supermarket 99p plastic hair comb to boar-bristled brushes and from moulded rubber handles to fancy flip-combs, it can feel like a minefield if you don't know exactly what you're looking for. 
The first thing you need to determine is which comb would best suit your beard.
This can be concluded from the length, density and coarseness of your beard hair.
Thinner, straighter beards and most moustaches are better suited to fine-toothed combs.
Whereas if your beard is thicker or curlier then you should be using a comb with wider gaps between the teeth.
When I set about designing my Beard Comb I wanted to have the perfect amount of space between the teeth that would provide optimum usage for the majority of my customers.
I opted for an opening of 2mm which tapers down to 1mm further up the comb.
This caters for most beard types as well as being able to double up as a more than useful hair comb.
Sources: http://beardtrimandgroom.com/learning-how-to-comb-your-beard-correctly/
http://www.lifehacker.co.in/jugaad/The-Most-Badass-Beard-Growing-Grooming-Tips/articleshow/41495383.cms
Wooden Combs vs. Cheaper Plastic Alternatives
As I mentioned earlier, combs come in all shapes, sizes, and materials from plastic and rubber, to wood.
My Beard Combs are made from hand-crafted tropical Pud wood - there's a reason I selected this material when I began my research.
Cheap, plastic combs aren't ideal for beards. When using one to work through your beard there can be a build up of static which can have a detrimental effect, especially if you do this regularly as part of your grooming routine.
By using a plastic comb you will, in effect, be electrifying your beard which may leave it looking particularly out of control.
Static can cause your beard hair to look wiry and out of control, especially if used without specialised Beard Conditioning Oil.
Wood is an antistatic material and thus works with your beard instead of against it.
Not only that but plastic combs generally have sharper points to their teeth which can cause irritation to the skin underneath your beard whereas wooden teeth are more forgiving.
Source: http://www.businessinsider.com/how-to-properly-groom-your-beard-2014-9?IR=T
The Optimal Time to Comb
If you're serious about getting the most from your beard there are a number of things you can do before using your comb.
For optimum results first wash your beard with a recognised Beard Wash and towel dry.
Once your beard is dry, apply a few drops of Beard Conditioning Oil.
Apply to the roots working outwards, this will help to untangle any knots which may have built up over time.
Once you've applied your beard oil then use your Beard Comb and run the comb from top to bottom and from the sides towards the centre of your beard.
It's important to apply either Beard Conditioning Oil or Beard Balm before combing as this will limit any breakage in your beard caused by inadvertently pulling at knots.
Using the comb with the beard oil will also help spread the oil evenly through your beard for a healthier, neater look.
It's also important not to use a hairdryer to dry your beard after washing as excessive heat can also have a negative impact on your beard.
Source: http://beardtrimandgroom.com/learning-how-to-comb-your-beard-correctly/
Additional care advice for your Beard Comb
Because my Beard Combs are made from tropical Pud wood they should, given the correct care, last you longer than combs made from cheaper alternatives.
Over time you'll notice that it will become slightly heavier and darker than when you first used it.
This is because the wood has absorbed the moisture from the beard oil you have used.
If you leave it in the sun for between 5-10 minutes each week this will help to keep the comb in good condition and rid it of lingering moisture.
You should, however, avoid leaving the comb in direct sunlight for prolonged periods of time.
Also avoid cleaning the comb by running under water, this may damage it significantly as over absorption may lead to warping.
Other Sources:
http://www.themanoraz.com/maintain-facial-hair/
http://www.beardinstitute.com/beard-grooming/
http://www.wisegeek.org/how-do-i-choose-the-best-beard-brush.html
And that's about all for now. If you're looking for your first Beard Comb or are thinking of switching to a wooden comb I hope this has been helpful to you.
Finally, many thanks to you all for the continued support.
Please keep those emails coming in as we love to read them, and keep growing those beards!
Yours,